by
amy –

November 13, 2019 in Cooking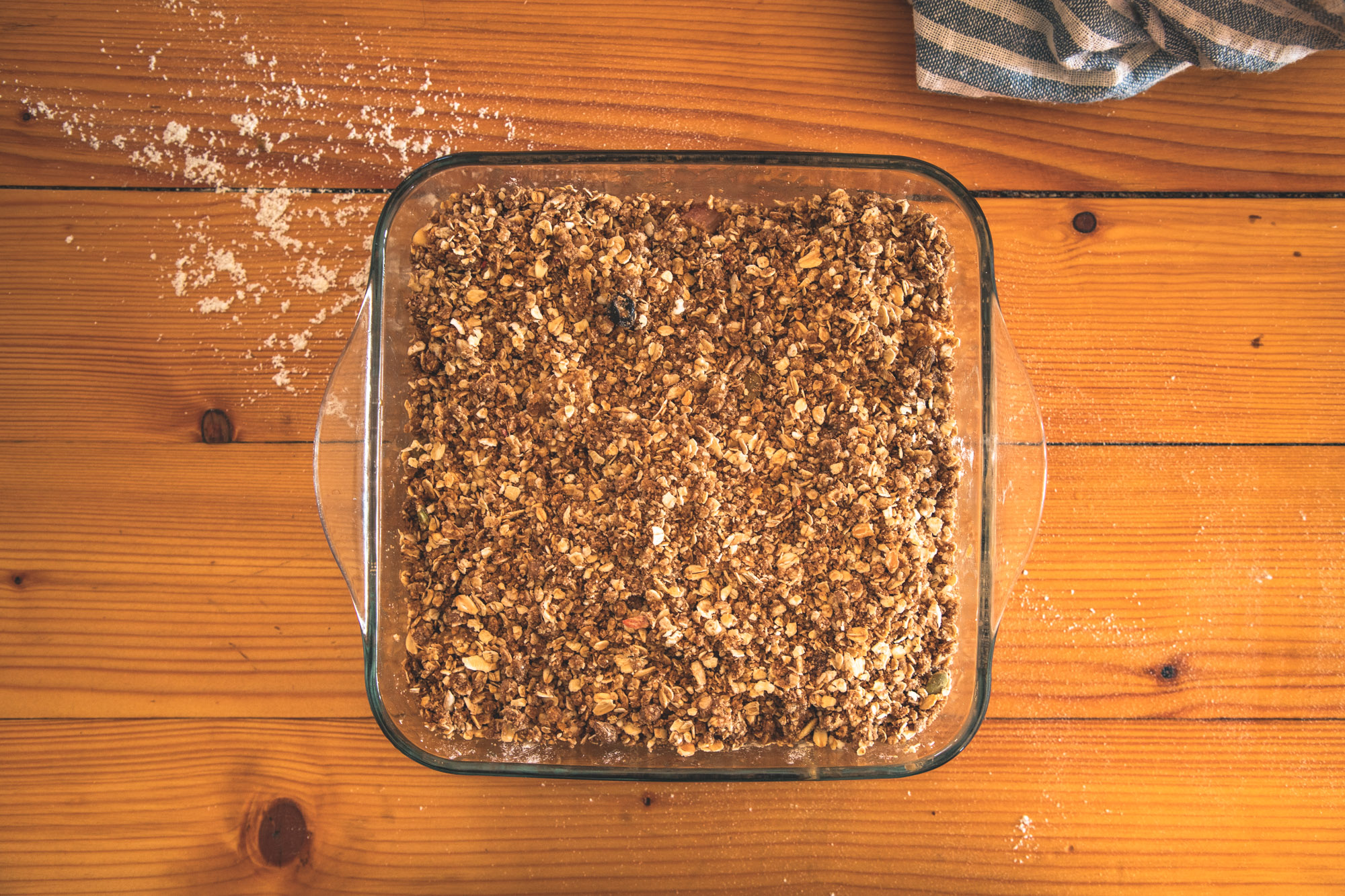 Fruit layer:
4-5 cups diced rhubarb
3/4 cup sugar (just 1/2 cup if using fruit other than rhubarb)
2 tbsp flour
Topping:
1/2 cup brown sugar
1 cup oatmeal
1/2 cup flour
1/4 cup melted butter
1/2 tsp cinnamon
1/4 tsp nutmeg
1/4 tsp ground ginger
1/4 cup chopped nuts (optional)
* * *
Place fruit directly into a medium-sized baking dish and mix in the flour and sugar.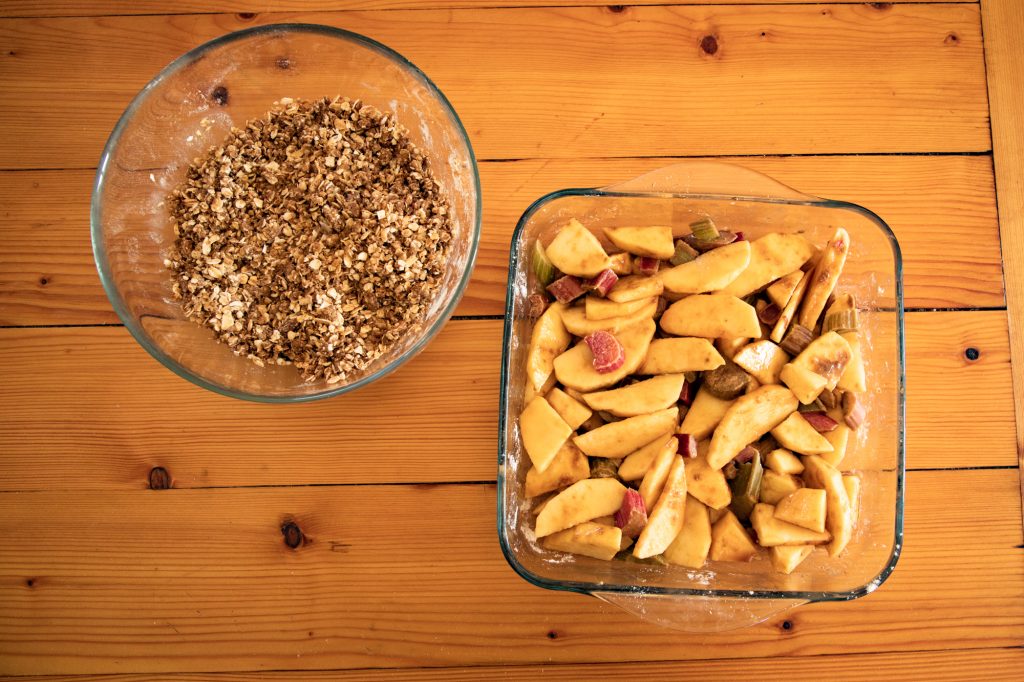 Put all the topping ingredients into a medium bowl while melting the butter. Add the butter last and mix in with a big spoon, then switch to your hands to mix the ingredients evenly and most importantly, to distribute the butter really well.
Pour the topping over the fruit and bake at 365 F for about 30 minutes on the middle rack of the oven. Then turn the oven to grill mode for 5 minutes to get the topping nice and browned/toasted. The fruit layer should be bubbling up around the sides.
* * *
This is one of my favorite desserts! It also makes a nice, filling breakfast 😉 It requires few dishes and is so easy to throw together, plus you can use any fruit you have on hand. Frozen fruit works as well, just make sure to thaw and drain the extra water out beforehand.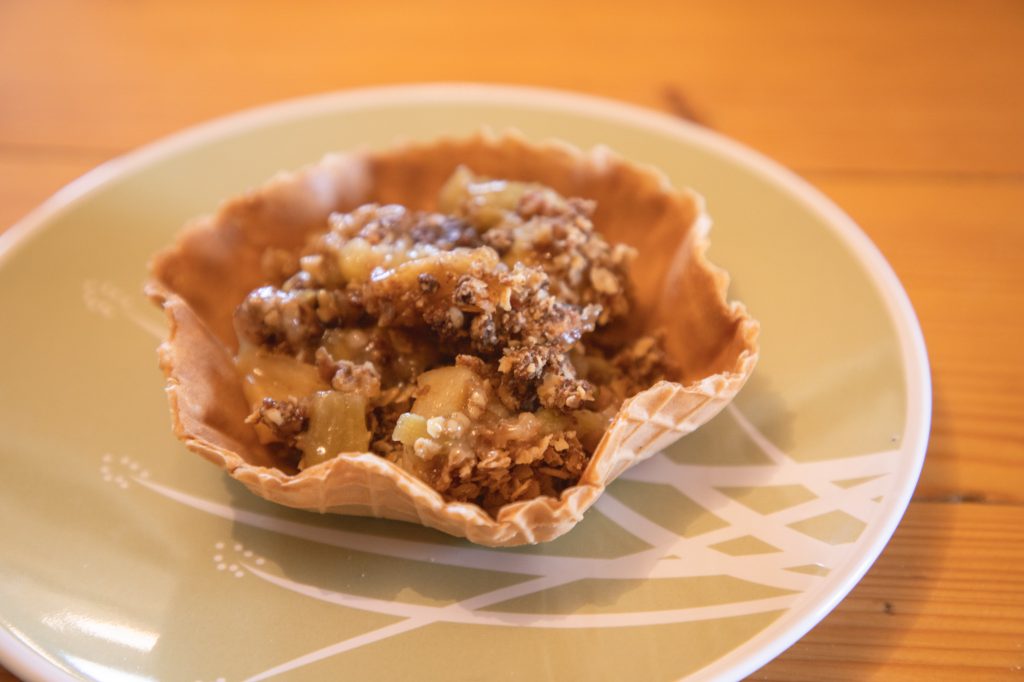 Since I've been making it so often this fall, I decided to finally share my recipe! I started with the one for Fruit Crisp from Better Homes & Gardens, then I made slight modifications to ensure a proper ratio of topping to fruit.
All types of fruit are good for making crumble/crisp, but rhubarb remains my favorite! My husband prefers apples & rhubarb together which is also delicious (the sweetness of the apples mixes well with the tartness of the rhubarb). If using apples I like to mix in a few squeezes of lemon juice.
What type of fruit crumble is your favorite?