by
amy –

October 12, 2014 in Cooking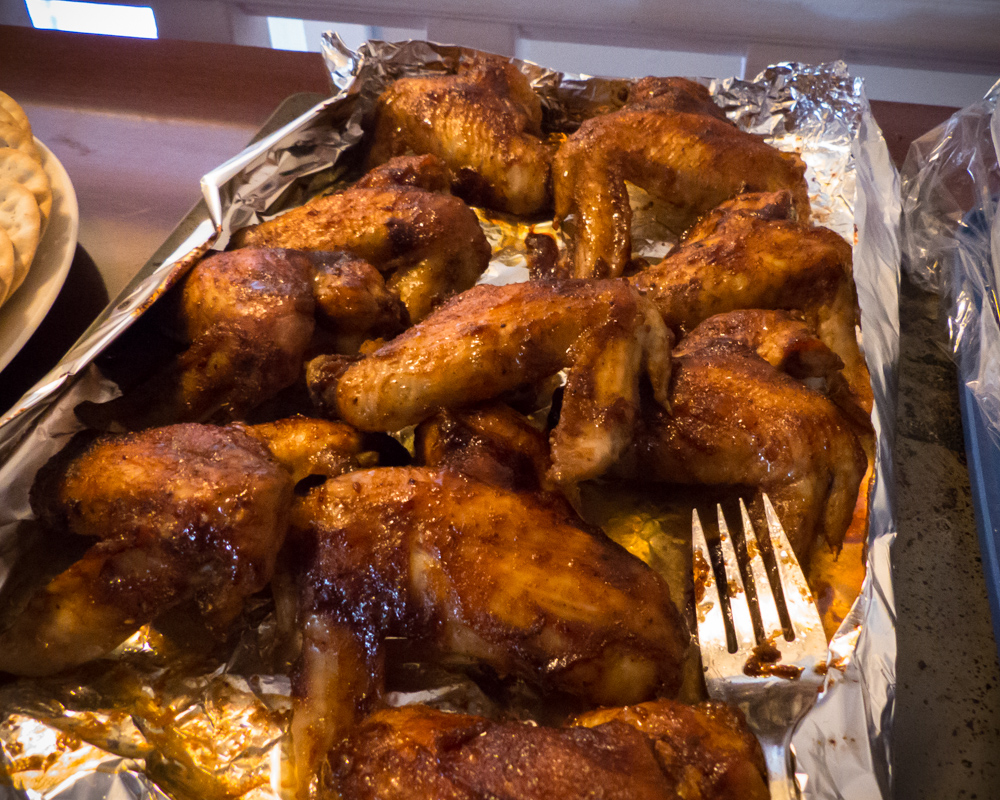 I made these the other day for a potluck. They were super easy to make! I got the recipe from my mom and modified it some; below is my combination of ingredients for the sauce.
Sauce for 3 lbs chicken wings:
1/2 cup brown sugar
1/2 cup ketchup
1/4 cup cider vinegar
1/4 cup Worcestershire sauce
2 tbsp Dijon mustard
1 small onion chopped fine
3 cloves garlic minced
1 Tbs. chili powder
If you have time to marinade the chicken (using half the sauce) for 2+ hours before cooking, I recommend it, because that's what I did and I was very satisfied with the result. Nevertheless, marinading is not necessary if you're in a hurry.
So, combine all the above ingredients in a small saucepan, bring it nearly to a boil and simmer for 15 minutes. My recipe calls for 2 tbsp of mustard, but the original recipe called for 1/4 cup, which I think is quite a lot! You can vary the amount depending on how much "zestiness" you want – the mustard will definitely add kick to this otherwise sweet & savoury, bbq-like sauce.
Meanwhile, put your chicken wings on a foil-lined baking sheet and roast at 375° F for 30 minutes. Then baste them on both sides with the sauce and bake for 20-30 minutes longer. The sauce will caramelize nicely onto the wings, and it should become thick and gooey – a lovely sight to hungry eyes! And that's it. It's that simple.
Notes: My mom recommended baking the wings first before basting so that the fat has time to run. She drained the fat and then basted with the sauce in order to to eliminate the liquid first for maximum flavor. What I did instead was marinade the wings in half the sauce, then proceed as I described above. I felt there was no lack in flavor. The fat ran out onto the foil without affecting the marinade on the surface of the wings.